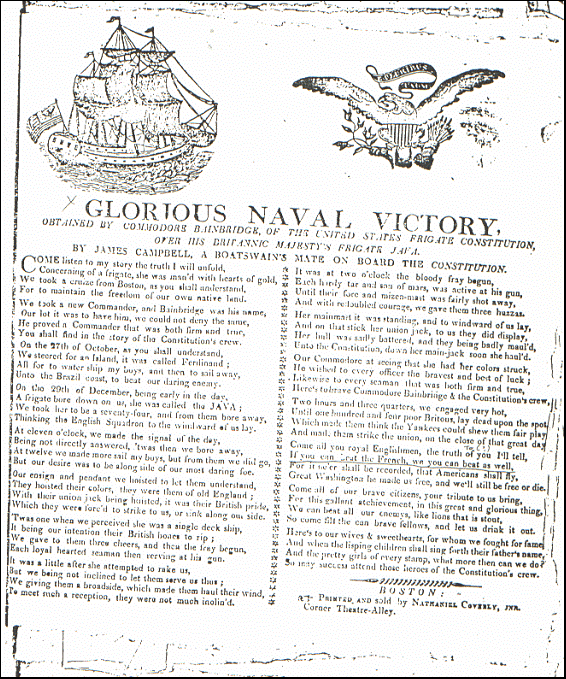 GLORIOUS NAVAL VICTORY
Obtained by Commodore Bainbridge, of the United States
Frigate Constitution over His Britannic Majesty's Frigate†Java
By James Campbell, A Boatswain's Mate on Board the Constitution
Come listen to my story the truth I will unfold,
Concerning of a frigate, she was man'd with hearts of gold,
We took a cruise from Boston, as you shall understand,
For to maintain the freedom of our native land.
We took a new Commander, and Bainbridge was his name,
Our lot it was to save him, we could not deny the same,
He proved a commander that was both firm and true,
You shall find in the story of the Constitution's crew.
On the 27th of October, as you shall understand,
We steered for an Island, it was called Ferdinand;
All for to water ship my boys, and then to sail away,
Unto the Brazil coast, to beat our daring enemy.
On the 29th of December, being early in the day,
A frigate bore down on us, she was called the Java;
We took her to be a seventy‑four, and from them bore away,
Thinking the English Squadron to the windward of us lay.
At eleven o'clock, we made the signal of the day,
Being not directly answered, 'twas then we bore away,
At twelve we made more sail my boys, but from them we did go,
But our desire was to be alongside of our most daring foe.
Our ensign and pendant we hoisted to let them understand,
They hoisted their colors, they were them of old England;
With their union jack being hoisted, it was their British pride,
Which they were forc'd to strike to us, or sink along our side.
'Twas one when we perceived she was a single deck ship,
It being our intention their British bones to rip;
We gave† them three cheers, and then the fray begun,
Each loyal hearted seaman then serving at his gun.
It was a little after she attempted to rake us,
But we being not inclined to let them serve us thus;
We giving them a broadside, which made them haul their wind,
To meet such a reception, they were not much inclin'd.
†It was at two o'clock the bloody fray begun,
Each hardy tar and son of mars was active at his gun,
Until their fore and mizzen‑mast was fairly shot away,
And with redoubled courage, we gave them three huzzas.
Her mainmast it was standing, and to windward of us lay,
And on that stick her union jack, to us they did display,
Her hull was sadly batter'd, and they being badly maul'd,
Unto the Constitution, down her main jack soon she haul'd.
Our Commodore at seeing that she had her colors struck,
He wished to every officer the bravest and best luck;
Likewise to every seaman that was both firm and† true,
Here's to brave Commodore Bainbridge and the Constitution's crew.
Two hours and three quarters, we engaged very hot,
Until one hundred and four poor Britons, lay dead upon the spot,
Which made them think the Yankees could shew them fair play,
And made them strike the union, on the close of that great day.
Come all you royal Englishmen, the truth of you I'll tell,
If you can beat the French, we you can beat as well,
For it ne'er shall be recorded, that Americans shall fly,
Great Washington he made us free, and we'll still be free or die.
Come all of our brave citizens, your tribute to us bring,
For this gallant achievement, in this great and glorious thing,
We can beat all our enemys [sic], like lions that is stout,
So come fill the can brave fellows, and let us drink it out.
Here's to our wives and sweethearts, for whom we fought for fame,
And when the lisping children shall sing forth their father's name,
And the pretty girls of every stamp, what more then we can do?
So may success attend† these heroes of the Constitution's crew.
Note:† James Campbell was 1st Captain, #13 Long Gun, in the Java engagement.