THIRD AND FOURTH WAR CRUISES (1813-1815)
Displayed below are the images of USS Constitution and her people during the period December 1813-May 1815, as recorded down through the years, arranged in approximate chronological order of the event or person depicted. Undatable, general, images are grouped at the end. Where appropriate, commentary is provided to put the image in context and evaluate its accuracy.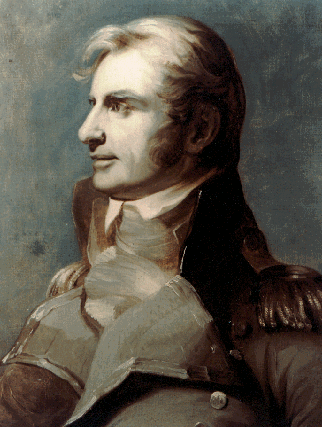 U. S. Navy Photo KN-2782
Unfinished 1817 oil on canvas portrait by Thomas Sully of Captain Charles Stewart, in command of USS Constitution from June 1813 to June 1815. On 20 February 1815, he took his ship into battle against HMS Cyane and HMS Levant in a twi-night action in which he maneuvered brilliantly to defeat both his enemies.
Stewart was born in Philadelphia on 28 July 1778 and entered the U. S. Navy as a Lieutenant in March 1798. He commanded USS Experiment during the latter part of the Quasi-War with France, USS Siren and USS Essex during the Barbary War, and USS Constellation and USS Argus during the opening months of the War of 1812..
After the war, Stewart commanded several squadrons and served as a member of the Navy Board of Commissioners, 1830-33. Later, he commanded another squadron and was commandant of the Philadelphia Navy Yard. In 1859, was promoted to the special rank of "Senior Flag Officer of the Navy," in effect becoming the U.S. Navy's first admiral. Became the senior Rear Admiral on the Retired List in 1862. He died at his home in Bordentown, NJ, on 6 November 1869, and is buried in Philadelphia's Woodlawn Cemetery.
Stewart was awarded a gold medal and prize money by the Congress. A destroyer and a destroyer escort have since been named in his honor.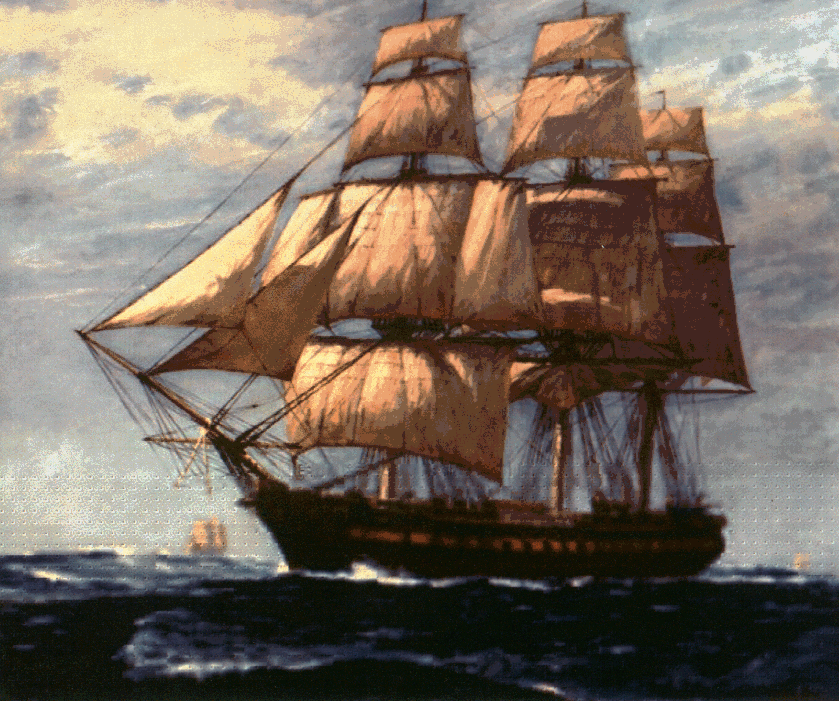 U. S. Navy
Painted by U. S. Navy Combat Artist John Charles Roach, Jr., in 1975, Constitution is here depicted on her third (1814) war cruise. Of particular interest is the yellow ochre gun streak, a legitimate ruse de guerre employed by Captain Charles Stewart to surprise or at least confuse his enemies.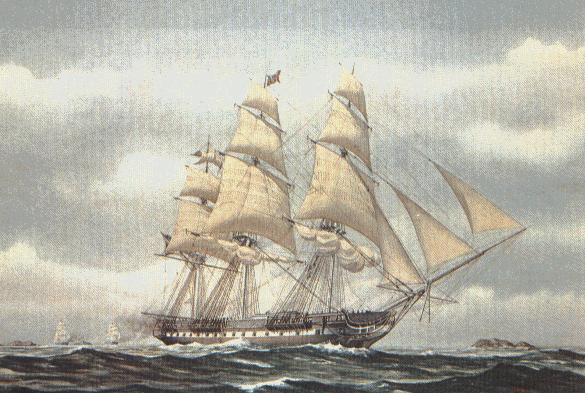 A print from ca. 1970 depicting Constitution's escape into Marblehead ahead of the pursuing HM frigates Tenedos and Junon. Note that the artist apparently was unaware that Captain Stewart had painted his ship's gun streak yellow.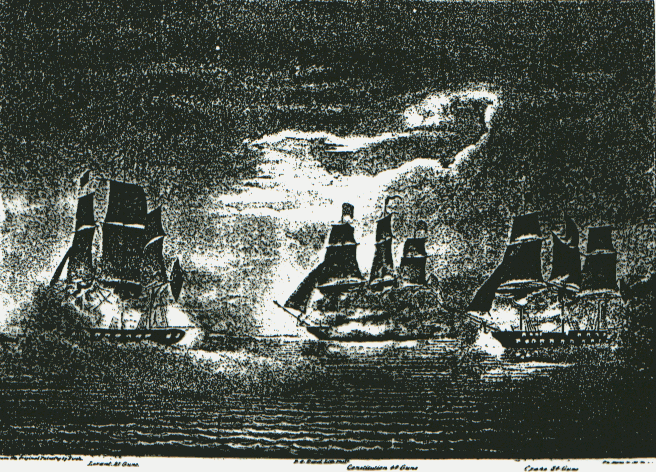 An early 19th Century woodcut depicting the opening phase of the twi-night battle between USS Constitution (center rear), and HMS Levant (left front), a corvette, and HMS Cyane (right front), a light frigate, on 20 February 1815. The battle opened with a single carronade shot from the American between the two Britons as an "invitation to engage." There followed twenty minutes of high-volume cannonading, seen here, until smoke totally obscured the scene and caused all to check fire.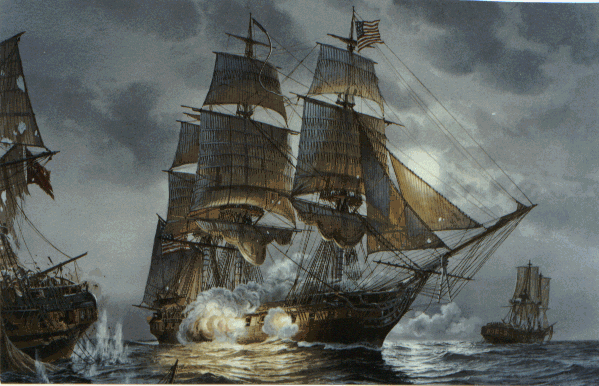 Courtesy Tom W. Freeman, all rights reserved
Entitled "Divide and Conquer," this watercolor depicts that critical moment on theevening of 20 February 1815, when, having driven HMS Cyane off a wreck (at right), Constitution cuts under the stern of HMS Levant and unleashes a devastating broadside at close range. This 1997 work is based upon extensive historical research and is thought to be as accurate as possible at this distance in time.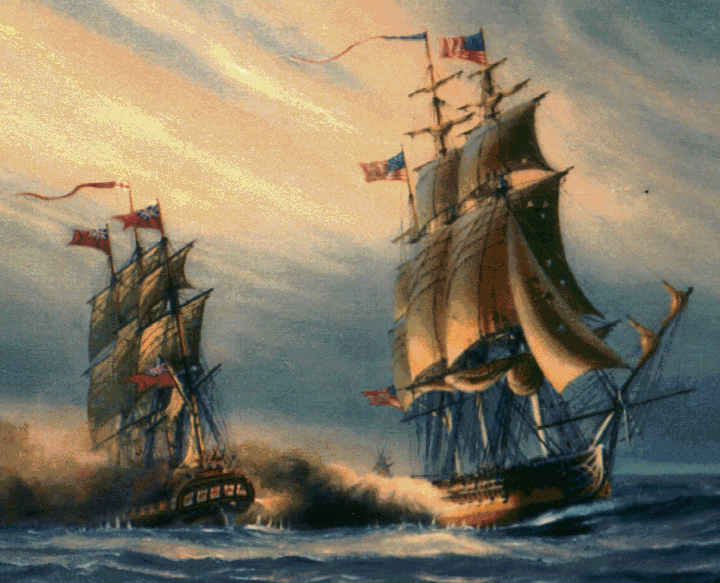 Courtesy Ken Grant, all rights reserved
Based upon careful historical research, this 2000 painting depicts the exchange of broadsides between USS Constitution and the badly overmatched HMS Levant on the evening of 20 February 1815. Even as she is unleashing her iron, the American frigate is beginning to turn close under her British foe's stern, where a rake will be delivered as "Old Ironsides" continues on around in chase. Shortly after 10 P.M., Levant will surrender, following her sailing mate, HMS Cyane, seen in the center distance, above, already surrendered and possessed by the Americans.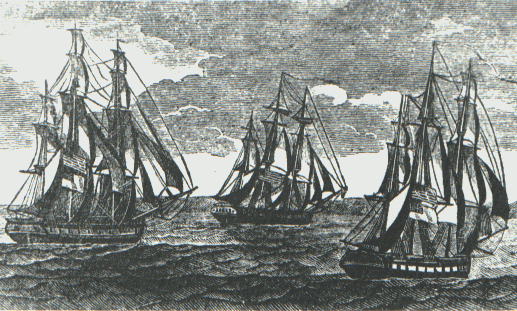 Early lithograph showing Constitution (center) approaching Porto Plata, in the Cape Verde Islands, with her prizes, Cyane (left) and Levant (right).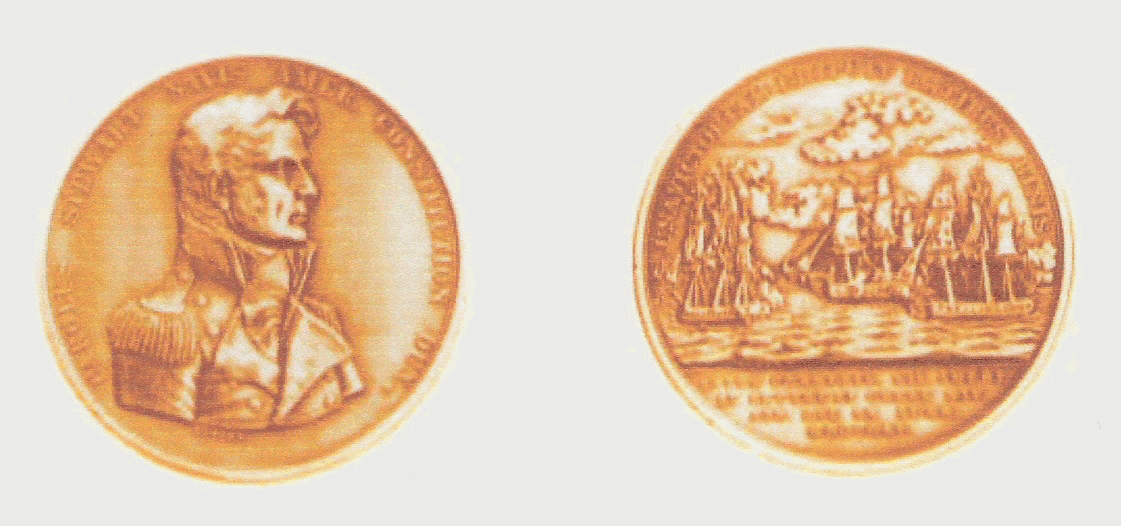 Captain Charles Stewart's Congressional gold medal, about 2 ˝ inches in diameter. Authorized in February 1816, it wasn't until June 1817, when Stewart was in the Mediterranean, that a likeness of him was sought on which to base the bust. His sketch for the reverse of the medal was not received until the spring of 1819. The medal was ready in February 1820. The legend on the front reads "Carolus Stewart Navia Amer: Constitution Dux," and atop the reverse, "Una Victorian Eripuit Ratibus Cina."