SCHOOL SHIP (1858-1871)
Displayed below are the images of USS Constitution and her people during the period 1858-1871, as recorded down through the years, arranged in approximate chronological order of the event or person depicted. Undatable, general, images are grouped at the end. Where appropriate, commentary is provided to put the image in context and evaluate its accuracy.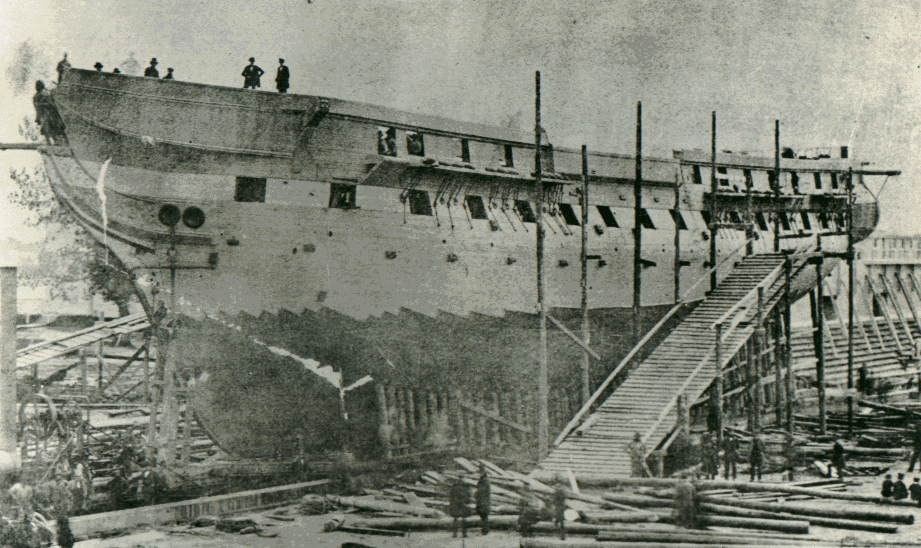 U. S. Navy NH 55581
A view of Constitution hauled out at Portsmouth Navy Yard, in the process of being prepared for further service. This damaged photograph was taken on 27 May 1858, shortly before the ship was refloated. Of particular interest are the presence of the second Andrew Jackson figurehead, mounted atop a cutwater whose trail boards sport an oak leaf design; the absence of head and seat rails, resulting in a much reduced bow head area, now enclosed; the boarded up waist area; and the boarded hammock "nettings," with those on the forecastle extended right out to immediately behind the figurehead. The "seats of ease" formerly in the bow head seem to have been removed, perhaps replaced by "spice boxes" in the manger deck area.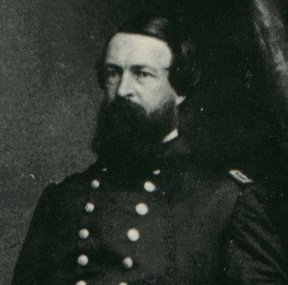 U. S. Navy NH 61922

Lieutenant David Dixon Porter, seen here a year or so later, commanded Constitution for a few weeks in August 1860 in order to sail her from Portsmouth Navy Yard to the Naval Academy at Annapolis, Maryland, in response to a May 1860 decision to employ the ship as a floating school.

Porter, born in Chester, Pennsylvania, in 1813, was the son of Commodore David Porter, who commanded USS Essex on her famous Pacific cruise during the War of 1812. After service in the Mexican Navy, the younger Porter was appointed a Midshipman in the U. S. Navy in 1829 and, over the years, had several tours in the Mediterranean and Brazil squadrons and at the Naval Observatory. He was on the staff of the Portsmouth Navy Yard when ordered to :"Old Ironsides."

Upon leaving the ship, Porter was ordered to the West coast for a few months before returning east and beginning a meteoric rise in the Navy. Promoted Commander in 1861, he became Acting Read Admiral, totally omitting the rank of Captain, in October 1862, and served as second in command to Rear Admiral David G. Farragut in the Mississippi campaign that resulted in the taking of New Orleans and Vicksburg. Promoted to Vice Admiral when Farragut was made Admiral in 1866, upon Farragut's death in 1870, he became the Navy's second Admiral.

Porter died in Washington, D. C., on 13 February 1891. The services of David and David Dixon Porter have since been honored by the naming of a torpedo boat and three destroyers.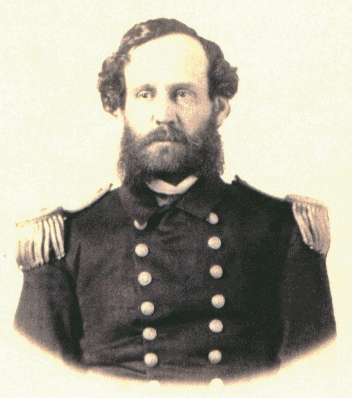 U. S. Navy
George Washington Rodgers, II, was the nephew of Commodore John Rodgers, who commanded Constitution during the Barbary War, and brother of Christopher Raymond Perry Rodgers, who served in the ship during her African cruise. Marred by smallpox. As a Lieutenant, the present Rodgers served as senior officer on board the frigate, which was "in service" at the Naval Academy, from September 1860 to September 1861. It was he who had charge of moving her from Annapolis to Newport, Rhode Island, where the Academy was reestablished in May 1861.
Rodgers was born on 30 October 1822 at Brooklyn, New York, where his father was on duty. As a member of the Rodgers-Perry families, naval service was almost preordained. Following his tour in Constitution, he was promoted and made captain of USS Catskill. He was killed in action while participating in an attack on Charleston, South Carolina, on 17 August 1863.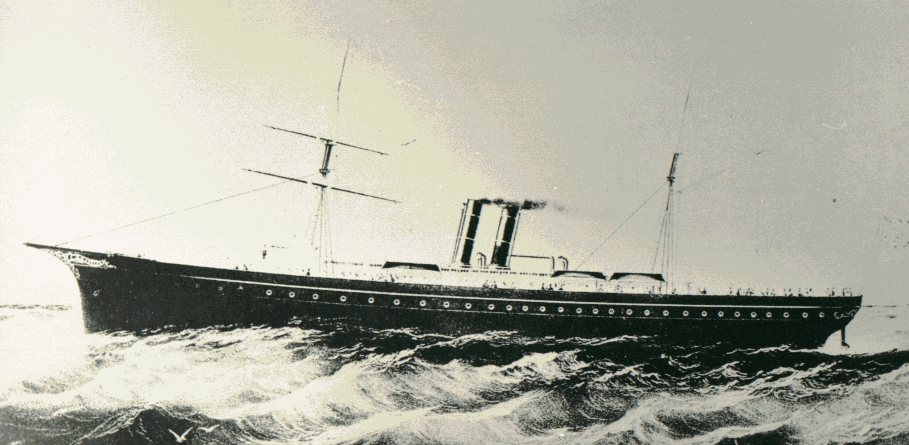 U. S. Navy NH002017
The screw steamer R. R. Cuyler was built in 1860 at New York for the H. B. Cromwell & Co., and employed on that company's New York-New Orleans-Havana route until laid up in March 1861. Chartered by the War Department, she was used to carry troops to the Washington-Annapolis area. Thus, she was in the vicinity of the Naval Academy when, in April 1861, it was decided to move Constitution north. Since Cuyler was due to return to New York, she was loaned to the Navy for that purpose. The task completed early in May, the Navy formally acquired the steamer and outfitted her as a gunboat. She functioned in that capacity, mainly in the Gulf of Mexico, until war's end. Auctioned off in 1865, she was wrecked in a storm in September 1867.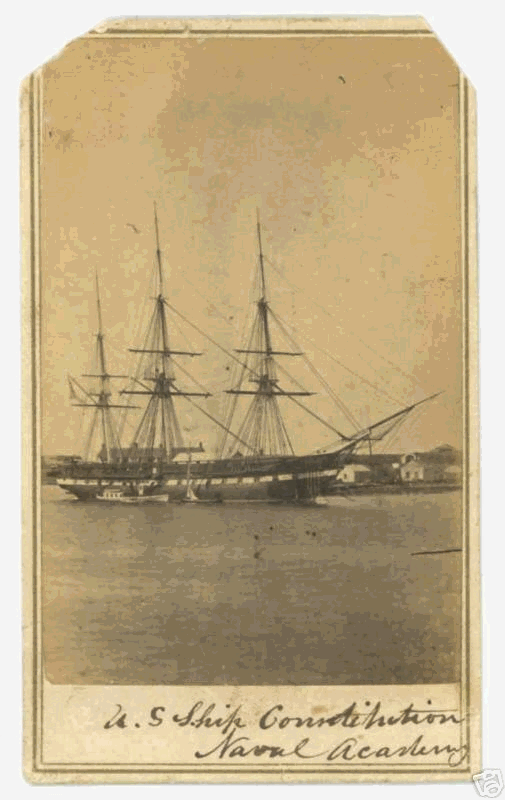 One of the clearest photos found to date of the ship, at Newport prior to the arrival of USS Santee.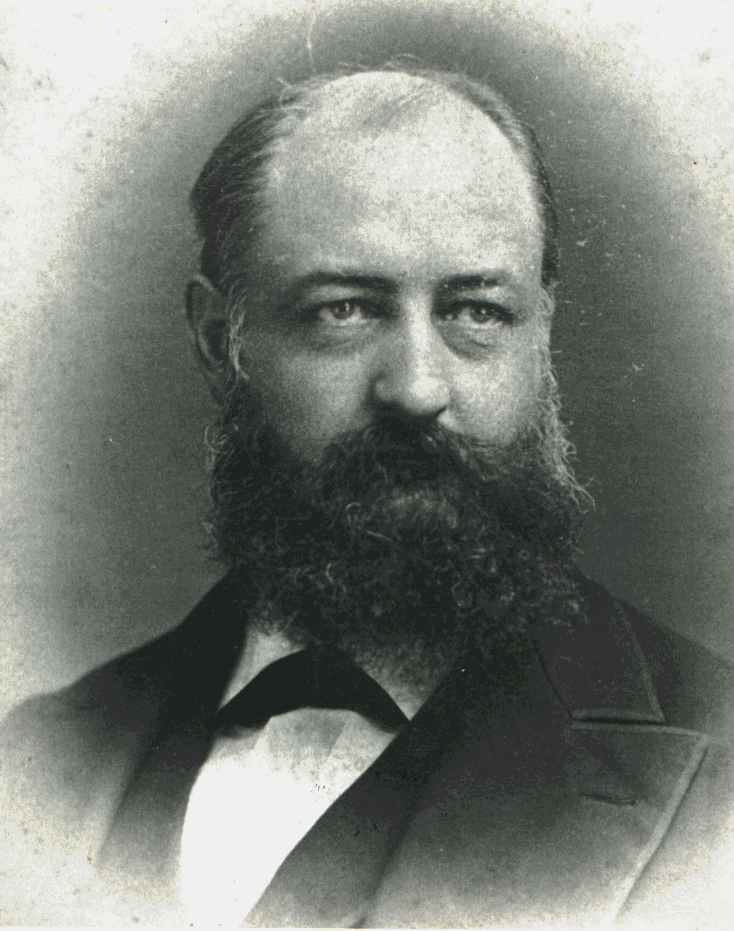 U. S. Navy Old 15807
Lieutenant Commander Edward Phelps Lull already was a combat veteran when he reported to Newport in the late summer of 1861, having participated in the amphibious assault that captured Hatteras Inlet that summer. He remained as senior officer on board Constitution until December 1863, and became well known to the midshipman as a tall, stern officer who was yet sympathetic to their situation. Rising to Captain after the war, he died at Pensacola,.Florida, on 5 March 1887.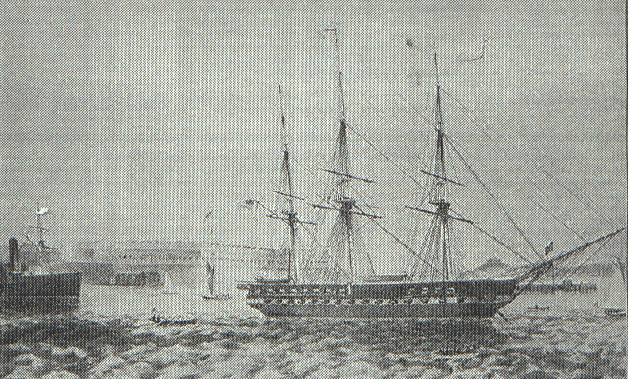 A fanciful depiction of Constitution off Newport: fanciful in that she is shown with long guns protruding from every port! The roof of the lecture hall erected over the old main hatch is visible, however, as is the single dolphin striker and the second Andrew Jackson figurehead. To the left is the steamer Baltic, with Fort Adams in the background.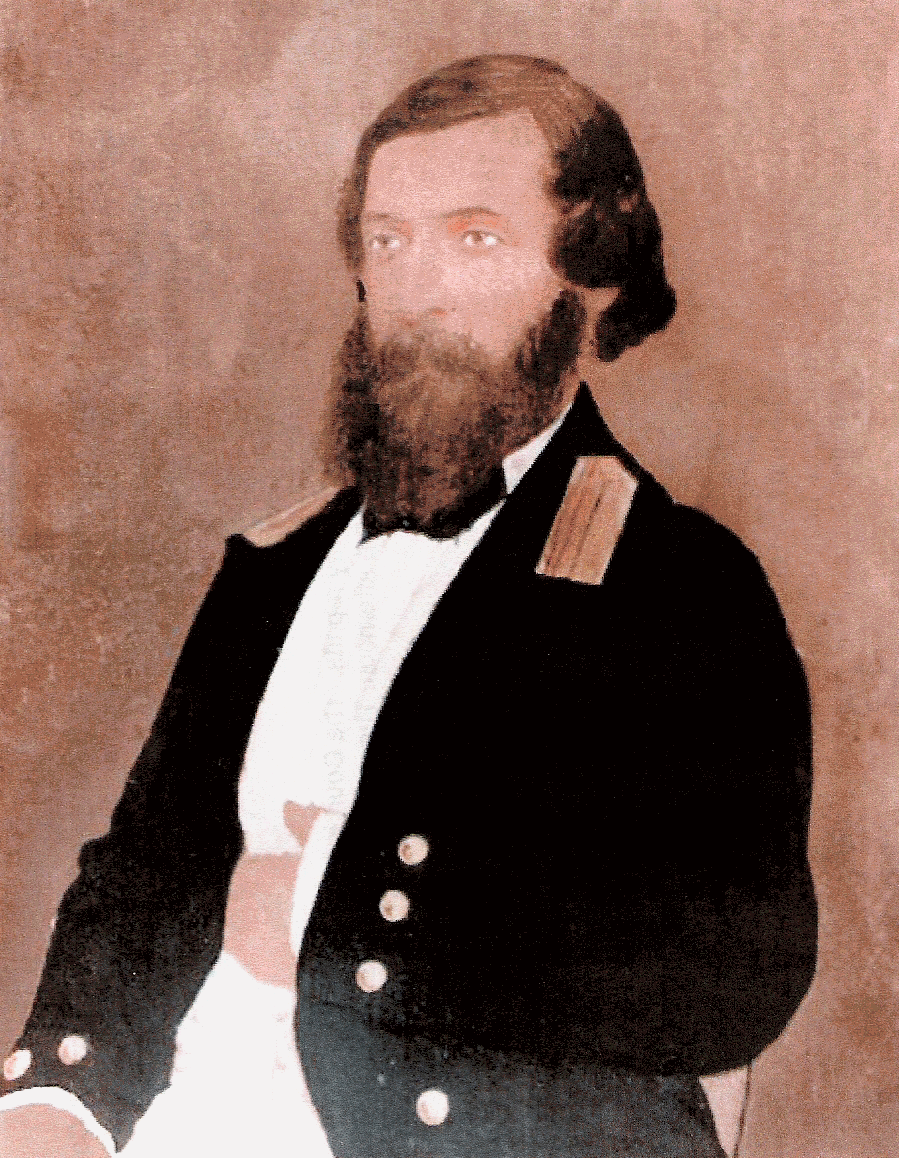 Courtesy James E. Eller
This hand-tinted photograph of Gunner George Sirian probably was taken about 1865. Sirian was a Greek lad orphaned by that country's war of independence and was one of a number taken aboard the Mediterranean Squadron. He returned to the United States in Constitution under the sponsorship of Lieutenant R. B. Randolph. Provided schooling, he eventually came under the tutelage of Gunner George Marshall, himself a transplanted Greek. Following Marshall's example, Sirian himself earned a warrant as Gunner. He served in Constitution in that role during her circumnavigation, and yet again when she was school ship for the Naval Academy at Newport, Rhode Island. He later served a tour in the East Indian Squadron before retiring.

U. S. Navy NH 991
USS Constitution (left) and USS Santee at Newport, Rhode Island, in 1863. Note the absence of any yards above the topsail yards in Constitution, and the presence of spencer gaffs on the mainmasts of both ships. Also barely visible are the classrooms built over the main hatches of both ships. At this time, Constitution was used primarily as dormitory for Plebes and seamanship training; Santee was the gunnery training ship.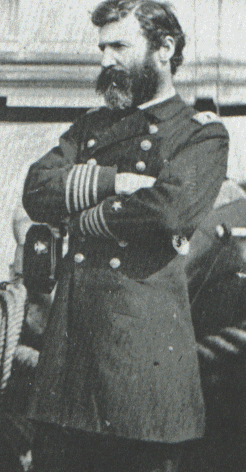 U.S. Navy

Lieutenant Commander Philip Carrigan Johnson, Jr.

(seen here as a Commander), was in charge of Constitution from April 1864 until February 1866. He is the officer who sailed the ship from Newport, R.I., back to Annapolis after the Civil War ended.

Johnson was born on 21 November 1828 in Maine. As a midshipman, he was present at the bombardments of Vera Cruz and Tuxpan during the Mexican War. He commanded two ships during the Civil War, serving in the Western Gulf Squadron. Upon leaving the Naval Academy, he was assigned to the Pacific Squadron, ultimately becoming Chief of Staff of the Pacific Fleet. He died at Portsmouth, New Hampshire, on 28 January 1887.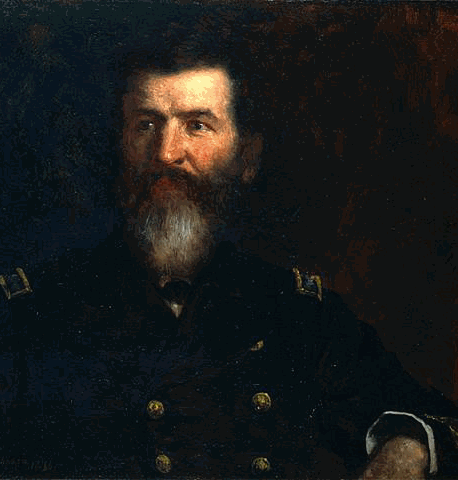 Courtesy Tristan Charles Johnson Elbrick
A portrait of CDR Johnson done by his brother, Eastman Johnson in 1876.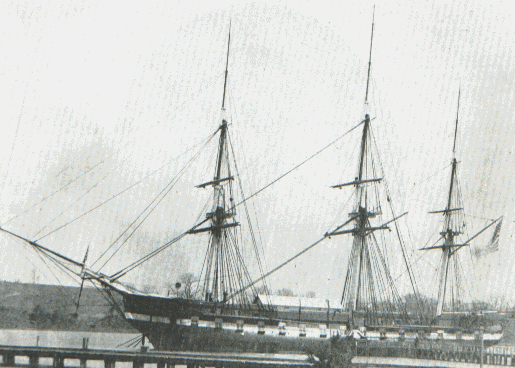 U.S. Navy
Constitution at Annapolis following her return during the summer of 1865. Visible is the recitation house built over the main hatch area. Note that she has a single dolphin striker and but a one-pane window in the quarter gallery. Note, too, that she has only lower and topsail yards, retains the spencer gaff on the mainmast, and has her main deck gun ports fitted with hinged lids..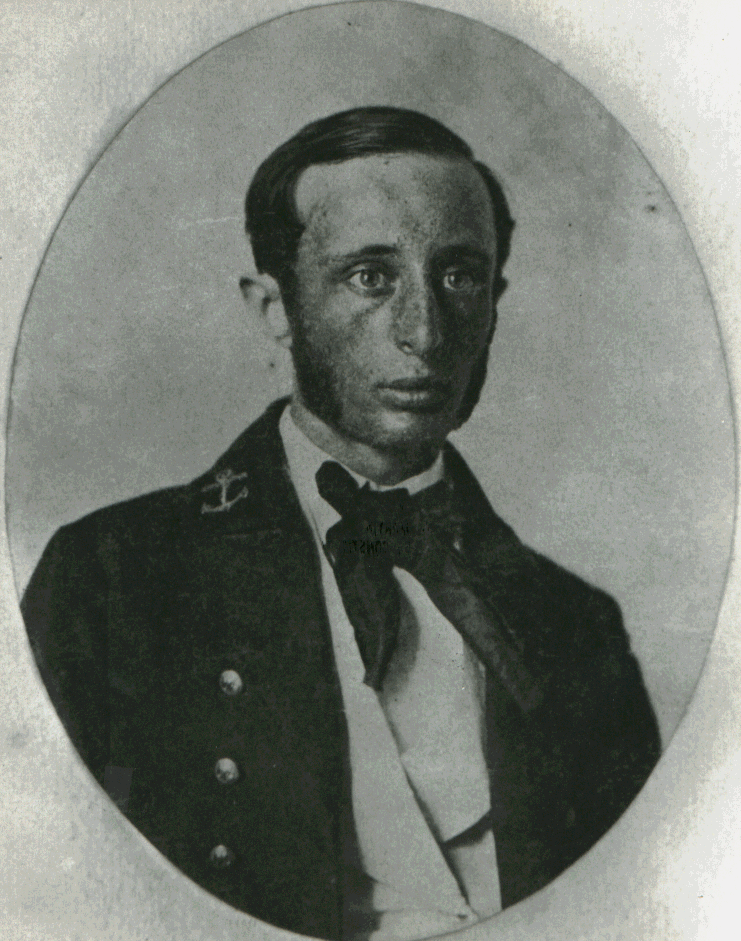 U. S. Navy Old 17095
Lieutenant Commander Thomas Henderson Eastman, seen here as a Midshipman in the late 1850s, had charge of USS Constitution from February 1866 until November 1867, while she served as stationary school ship at Annapolis. Born at West Point in July 1837, he had served as Executive Officer of USS Keystone State during the Civil War. Subsequently promoted to Commander, he retired in 1883 and died at Portsmouth, New Jersey on 18 March 1888.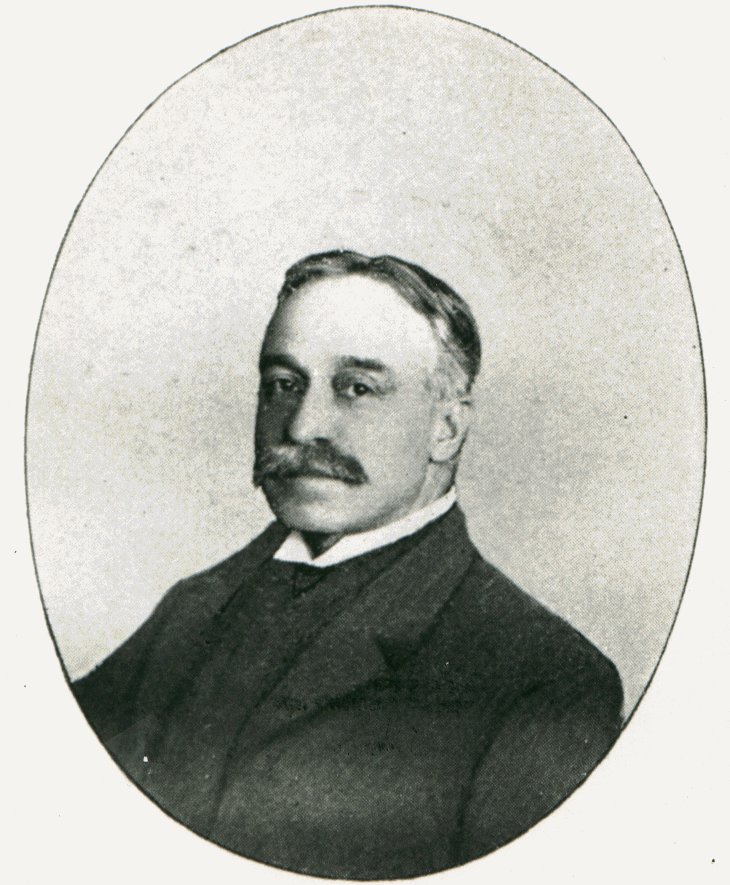 U. S. Navy NH 79203

Lieutenant Commander George Dewey, seen here in a photograph ca. 1890, was in charge of Constitution from November 1867 until August 1870 while she was stationary school ship at Annapolis. His rather routine career changed dramatically in 1898 when, as squadron commander in the Far East, he subdued a moribund Spanish squadron at Manila early in the Spanish-American War. Journalistic hype resulted in his promotion to "Admiral of the Navy" in 1899, a rank unique to him.

Dewey was born in Montpelier, Vermont, on 26 December 1837 and died in Washington, DC, on 16 January 1917. A destroyer and a guided missile frigate have been named for him.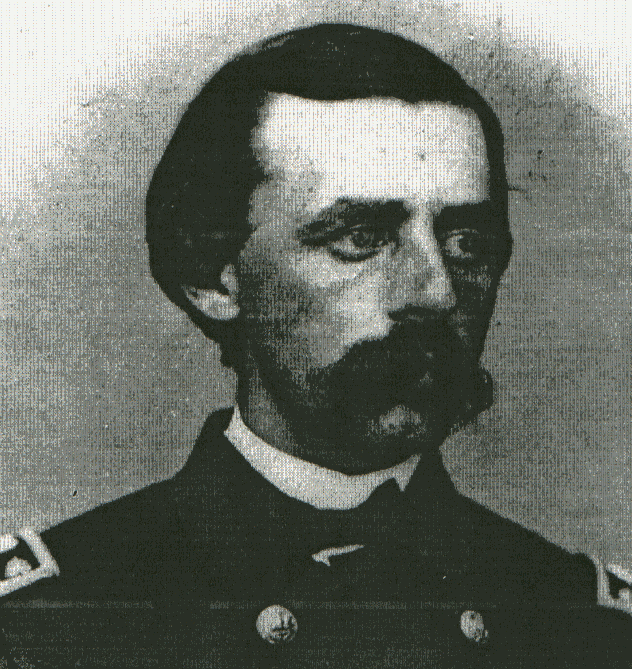 U. S. Navy NH 48916
Lieutenant Commander Henry Lycurgis Howison, officer in charge, USS Constitution, during the last part of her service as stationary training ship at the U. S. Naval Academy, 1870-71 Howison was born in Washington, Indiana, 10 October 1937, and was appointed to the Naval Academy in 1854. A Master when the Civil War began, by 1865 he had risen to the rank of Lieutenant Commander, having spent most of the war years in the South Atlantic Blockading Squadron as executive officer of a succession of ships. At war's end, he was in a similar billet in the West Gulf Blockading Squadron.
Following his service in Constitution, Howison went on to command several ships, often in connection with training, and two navy yards. Rising to Rear Admiral on 30 September 1898, he retired slightly more than a year later to his home in Yonkers, New York. There he died on 31 December 1914. He is buried in Oak Hill Cemetery, Washington, DC.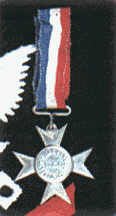 On 26 April 1869, Secretary of the Navy Adolph E. Borie authorized creation of a good conduct badge, to be awarded to enlisted personnel only. The following January, the Navy called for bids and contracted with the E. V. Haughwont Company of New York to produce 500 of them, at 35 cents each. Included in the price was a suspension ribbon (but no brooch) and the recipient's name engraved on the reverse.
The badge is of nickel medal in the form of a Maltese Cross about an inch and a quarter wide. The central disc has the words "FIDELITY - ZEAL - ODEDIENCE" around its perimeter. The tricolor ribbon is a half-inch wide.
First requisitioned in late April 1870 for men of USS Iroquois, four others were awarded to men of Constitution that June: William Smith, John Beatty, John Young, and John M. Davis,
Ultimately, some 3000-4500 were issued between 1870 and about 1884.
(Among latterday collectors and dealers, this badge is sometimes called the "Nickel Cross.")