MEDITERRANEAN SOJOURN (1821-1828)
Displayed below are the images of USS Constitution and her people during the period 1821-1828, as recorded down through the years, arranged in approximate chronological order of the event or person depicted. Undatable, general, images are grouped at the end. Where appropriate, commentary is provided to put the image in context and evaluate its accuracy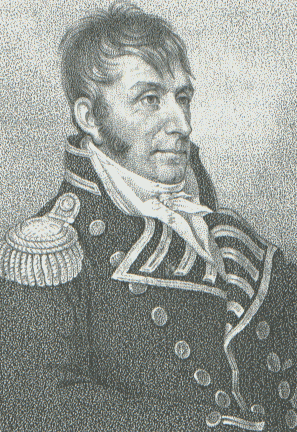 U.S. Navy
Captain Jacob Jones commanded Constitution and the Mediterranean Squadron from 1821 to 1824. For much of that time, his force had an observer's role, insuring that American interests in the Mediterranean were respected and protected.
Jacob Jones was born in March 1768 near Smyrna, Delaware. After finding a career in medicine was not for him, he accepted a warrant as Midshipman in 1799, one of the oldest men ever appointed to that rank. During the Barbary War, he had the misfortune to be aboard the frigate Philadelphia when it ran aground off Tripoli, and he spent 19 months as a prisoner of war.
At the outset of the War of 1812, he commanded the sloop of war Wasp. In her, he captured the British brig Dolphin and defeated HMS Frolic, for which action he was awarded a congressional gold medal. Given command of the captured frigate Macedonian, he was blockaded in New London, Connecticut, and was reassigned to the Lake Ontario Squadron until war's end.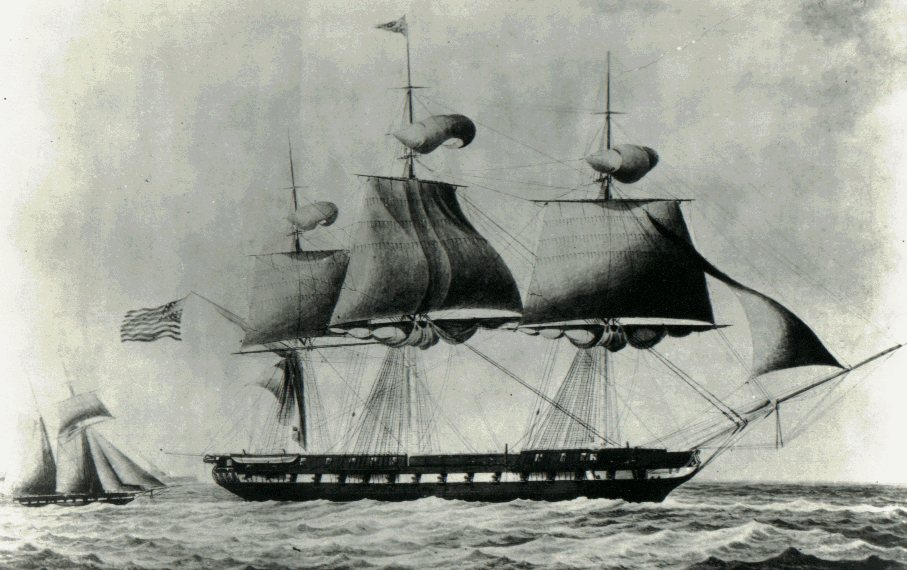 U. S. Navy NH54594

The black and white painting, dated 1823, is said to have been done by a member of the ship's company using the only paints available to him: black and white. Note that the ship retains her double dolphin striker, but now has an enclosed bow head area and a "wrap-around" gun streak. A billethead continues to top the cutwater. A squadron commander's broad pennant flies from the main truck. The schooner at left is thought to USS Nonsuch.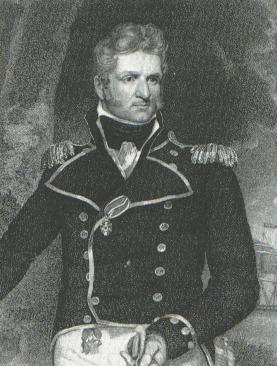 U.S. Navy
Constitution's captain for about a year, Thomas Macdonough began the frigate's second consecutive stint in the Mediterranean, 1824-5. A sick man, he had to relinquish command in October 1825 and take passage home. He died at sea, a day short of reaching the United States (10 November 1825). The medal affixed to his lapel denotes his honorary membership in the Society of the Cincinnati, an officer veterans group dating from the Revolution. Composed originally of members of the Continental Army, or a single surviving descendant of each, the Society subsequently awarded honorary memberships to exemplary latter-day officers.
Thomas Macdonough was born 23 December 1783 in The Trap, Delaware, and was appointed midshipman in 1800. Like Jacob Jones, he was captured in Philadelphia and remained a prisoner of war in Tripoli for 19 months. Ordered to Lake Champlain at the outbreak of the War of 1812, he was responsible for creating the American naval presence there, and for leading that squadron to victory over British foes in September 1814. Promoted to captain and awarded a gold medal by Congress, he later served as commandant of the Portsmouth (NH) NavyYard before his final sea duty.
A torpedo boat, a destroyer, and a guided missile frigate have since borne his name, and his birthplace was renamed in his honor.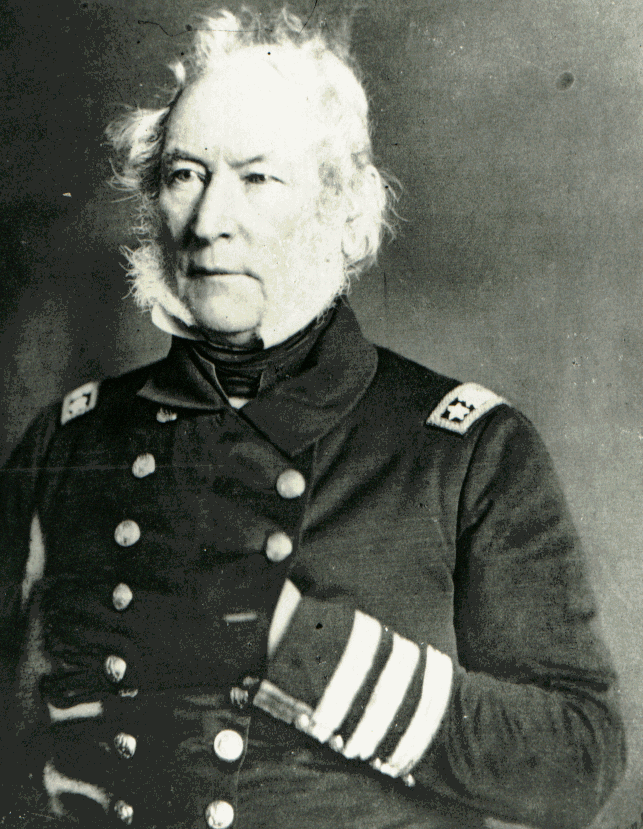 U. S. Navy NH 47285
Captain George Campbell Read commanded USS Constitution briefly between December 1825 and February 1826 while she was inactive at Port Mahon, Minorca. This picture was taken in the 1850s.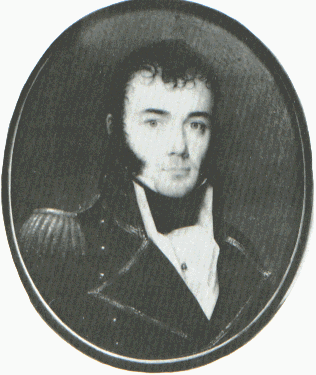 U.S. Navy
Captain Daniel Todd Patterson (seen here as a lieutenant) commanded Constitution from February 1826 until June 1828, concluding a nearly unbroken seven years in the Mediterranean, mostly as squadron flagship.
Patterson was born on Long Island, New York, on. 6 March 1780, and became an acting midshipman in June 1799, serving in USS Delaware. He was third of Constitution's captains top have been a Tripoline prisoner of war during the Barbary War. Sent to the New Orleans Station upon his return home, he remained there through the War of 1812, having taken command of the station as a master commandant at war's outbreak. His forces provided crucial support to General Andrew Jackson in the defense of New Orleans, delaying British operations until the land forces could assemble and prepare for battle. Later a naval commissioner and commandant of the Washington Navy Yard, he died in that office on 25 August 1839.
Two destroyers and a destroyer escort have been named in his honor.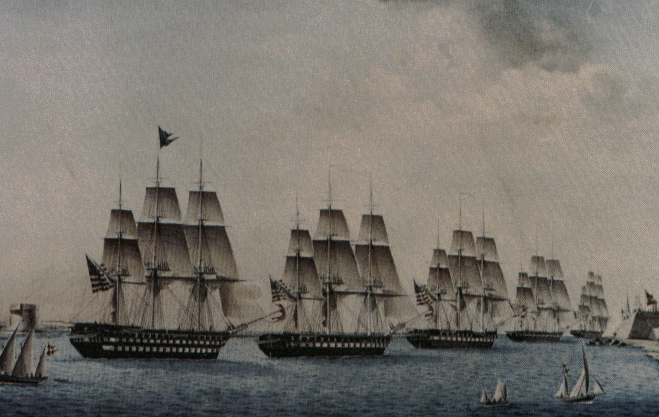 U. S. Navy
An imaginary scene of about 1826 depicting the American Mediteranean squadron departing Port Mahon, Minorca. From left to right are North Carolina, Constitution, Brandywine, Erie, and Ontario. There is no known occasion when the squadron departed together in this manner.
Courtesy James Edward Eller
Damaged and retouched oil portrait of Boy George Sirian, about 1828. This Greek native of the island of Ipsara, orphaned during the Greek Revolution, was one of ten known to have been taken into the American Mediterranean Squadron about this time. His name is the one given him by the Americans. Returned to the United States in Constitution under the sponsorship of Lieutenant Robert B. Russell, Sirian received some formal education, became a Gunner in the Navy, and served in Constitution twice more: during her circumnavigation, 1844-6, and when she was stationed at the Naval Academy during the Civil War.