MEDITERRANEAN FINALE (1848-1851)
Displayed below are the images of USS Constitution and her people during her last tour of duty in the Mediterranean (1848-1851), as recorded down through the years, arranged in approximate chronological order of the event or person depicted. Undatable, general, images are grouped at the end. Where appropriate, commentary is provided to put the image in context and evaluate its accuracy.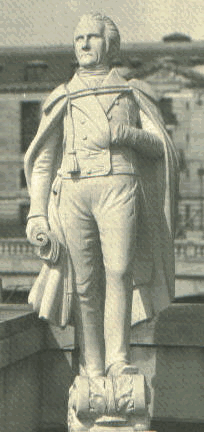 The second Andrew Jackson figurehead, carved by J. D. and W. H. Fowle of Boston and in place prior to the ship's 1848 recommissioning. It remained aboard until the overhaul of the mid-1870s. Currently on display at the Naval Academy.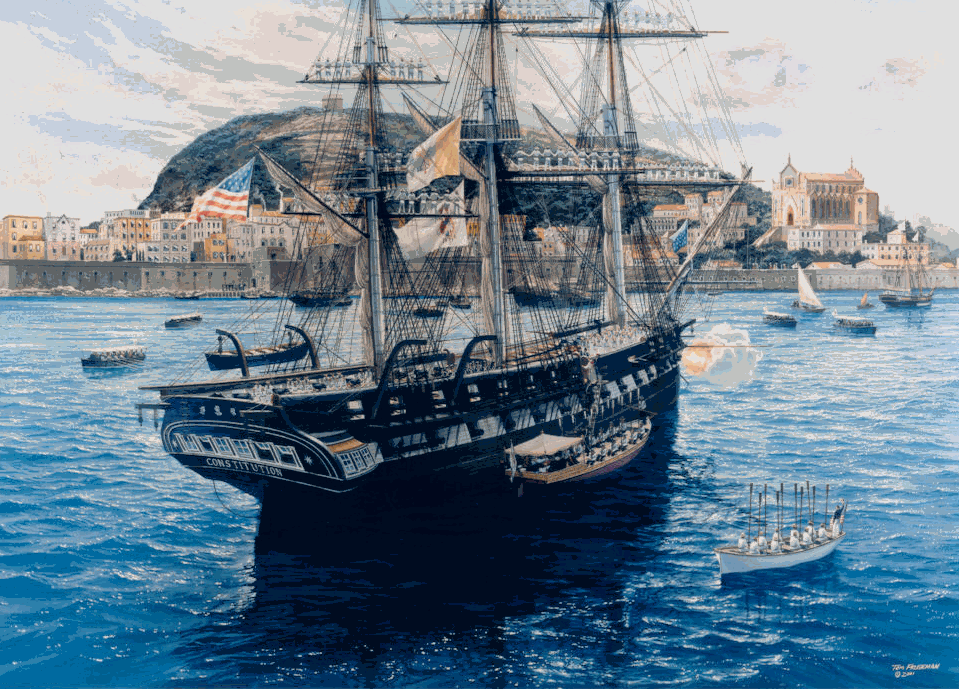 Courtesy Tom W. Freemen, all rights reserved
Water color "Ship of State," by Tom W. Freeman in 2001, depicts the moment when Pope Pius IX boarded Constitution at Gaeta, Italy, in August 1849. Since commissioned warships are considered extensions of the nations they serve, this occasion marks the first time a pope stepped on American territory. King Ferdinand II of the Kingdom of Two Sicilies accompanied Pius. The two spent several hours on board, partially because His Holiness became slightly seasick!
The painting was presented to Pope John Paul II by Mr. Freeman in April 2002, and is said to be displayed in the house where Pius was born.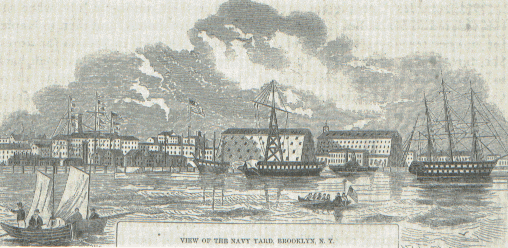 This 1851newspaper sketch view of the Brooklyn Navy Yard shows Constitution in the center, moored under the shear legs which have removed her masts, shortly after her decommissioning in February 1851..